Delfactis independently secures all receivables of connected suppliers bundled to one customer via market-leading credit insurance partners.
Central del credere insurance enables you as a Partner Customer to keep track and gain better control of your company's supplier receivables insurance and thus achieve greater stability in your supply chain.
As a Partner Supplier, you benefit above all from a 100% payment guarantee but also from the many other advantages of bundled protection via the customer. Limited trade credit limits of the credit insurers can thus always be used effectively and efficiently. Together, we can avoid bottleneck situations.
Even in difficult corporate situations or turnaround phases, we offer you ways to establish and maintain hedging limits.
Centralised del credere protection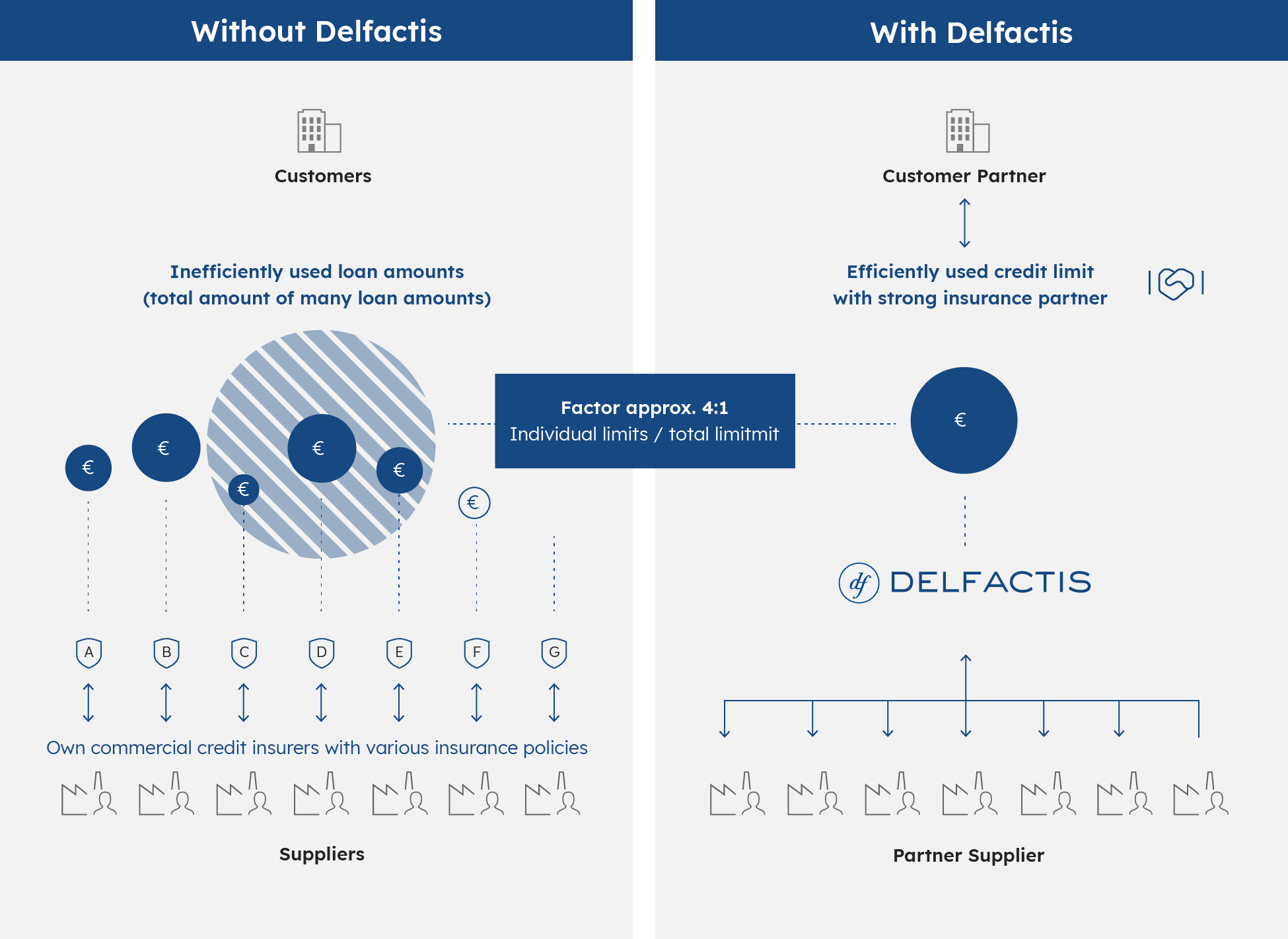 Advantages of central payment processing with del credere protection
For the customer
No limit restriction on the supplier side
By bundling the protection, your overall limit can be used efficiently on all supplier receivables.
Independence
As a customer, you can opt to take out insurance with one of Delfactis' strong partners and thus be independent of decisions made by individual insurance companies of the suppliers.
Ability to respond
As a customer, you can enter into dialogue directly with the insurance partner and, in the event of a growth phase or bottleneck situations, immediately adjust the approach together.
Security in payment transactions
We handle your payment transactions via trust accounts held especially for you with our exclusively German banking partners. Our modern processing platform supports all common and secure forms of data provision and ERM interfaces.
An instrument that is renowned throughout the sector
Many suppliers are already familiar with central regulation. We offer you individual and customised payment processing with high-quality del credere protection.
Low procedural effort
We can take over centralised payment processing with protection for your supplier with only minor adjustments to your procedural flow.
For the supplier
100% payment guarantee
Even in the event of late payment and insolvency of the customer, you as a partner supplier receive the full amount paid out directly by the insurance partner. This means that outstanding invoices do not represent a risk for you.
Unlimited delivery volumes
With bundled protection via an overall limit on the customer, all your open positions are fully secured, making credit checks on these customers obsolete.
In future, negotiations and monitoring of limits, as well as costs and effort for your own commercial credit insurance will no longer be an issue for you.
Security in payment transactions and process stability
We make payments to you on schedule via escrow accounts with our exclusively German banking partners. We take care of pay-ment processing for the customer and securing the receivables without the need for you to make any changes to your processes.
Strengthening your business relationships
By securing the supply chain together with the customer, you strengthen your business relationship and build mutual trust.